P

OWDER

R

ANGE®

Ti64


Applicable specifications: ASTM F3001

Associated specifications: UNS R56400, UNS R56407, ASTM B348, ASTM B265, F136, AMS 4907, AMS 4930, AMS 6932, AMS T9046, AMS T9047, SPS M618

Type analysis
Single figures are nominal except where noted.
| | |
| --- | --- |
| Titanium | Balance |
| Iron | 0.25 % |
| Nitrogen | 0.03 % |
| Other, each | < 0.10 % |
| Sulfur | 0.015 % |
| | |
| --- | --- |
| Aluminum | 5.50–6.50 % |
| Oxygen | 0.13 % |
| Hydrogen | 0.0125 % |
| Other, total | < 0.40 % |
| | |
| --- | --- |
| Vanadium | 3.50–4.50 % |
| Carbon | 0.08 % |
| Yttirum | 0.005 % |
Description
PowderRange Ti64 (Titanium-6% Aluminum-4% Vanadium, Ti-6Al-4V) is a high-performance titanium alloy characterized by excellent mechanical properties with a low specific weight and good corrosion resistance. Grade 23 (known as ELI) has lower limits for interstitial elements and is considered the higher purity version. Grade 23 displays increased ductility and fracture toughness with a slight reduction in strength over Grade 5, due to the reduction in interstitials. PowderRange Ti64 complies to ASTM F3001.
One manufacturing method for Ti-6Al-4V powder is plasma atomization, resulting in superior sphericity and low residual elements such as oxygen, but introduces the risk of high-density inclusions that are inherent to the plasma atomization process. Certain gas atomization techniques such as EIGA, can also achieve comparable residual element levels with acceptable morphology for powder-bed additive machines. EIGA uses a method which is in a ceramic- and tungsten-free process which reduces the risk of highdensity inclusions. PowderRange Ti64 can be processed with argon shielding gas.
Key Properties
High strength-to-weight ratio
Wear and corrosion resistant
Fracture toughness and fatigue resistance
Excellent biocompatibili
Superior weldability in laser AM processes
Markets
Applications:
Orthopedic/dental implants
Medical fracture and surgical tools
Gas turbine engine parts
Aircraft and spacecraft components
Automotive and motorsport components
| | | |
| --- | --- | --- |
| Part Number | PowderRange Ti64 F | PowderRange Ti64 E |
| Application | L-PBF1 | EB-PBF or DED1 |
| Maximum Particle Size | Max 1 wt% > 53 µm2 | Max 10 wt% > 106 μm2 |
| Minimum Particle Size | Max 10 vol% < 15 µm3 | Max 10 wt% < 45 μm2 |
| LSD Percentile | D10, D50, D903, reported | |
| Atomization | Vacuum Induction Melted, Argon Gas Atomized | |
| Apparent Density (G/CM3) | Measured according to ASTM B2124 and reported | |
| Hall Flow (S/50G) | Measured according to ASTM B2135 and reported | |
1 ASTM/ISO 52900: Laser — Powder Bed Fusion (L-PBF), Electron-Beam Powder Bed Fusion (EB-PBF), Directed Energy Deposition (DED)
2 ASTM B214 Standard Test Method for Sieve Analysis for Metal Powders
3 ASTM B822 Standard Test Method for Particle Size Distribution of Metal Powders and Related Compounds by Light Scattering
4 ASTM B212 Standard Test Method for Apparent Density of Free-Flowing Metal Powders Using the Hall Flowmeter Funnel
5 ASTM B213 Standard Test Method for Flow Rate of Metal Powders Using the Hall Flowmeter Funnel
Additive manufacturing process guidance
ASTM/ISO 52900: LASER-POWDER BED FUSION (L-PBF)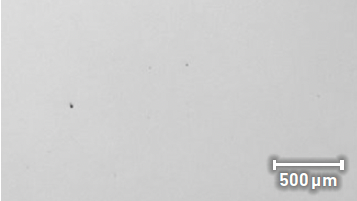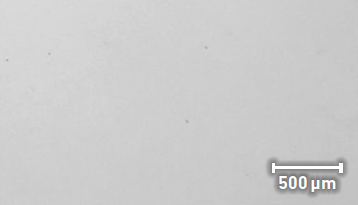 Mean densities greater than 99.9%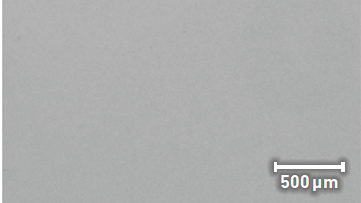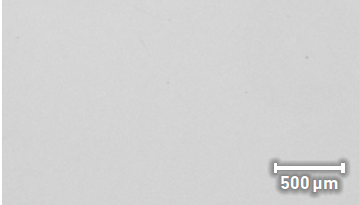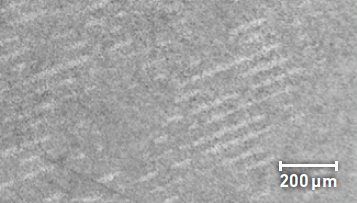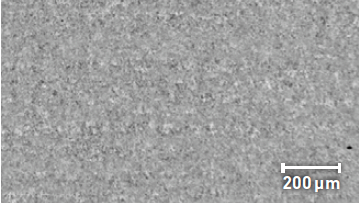 Typical pre-solutionized PowderRange 15-5PH microstructure, consisting of martensite with minimal carbide precipitates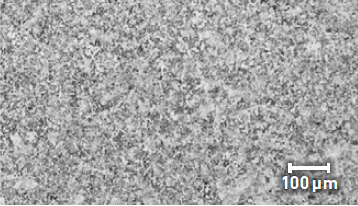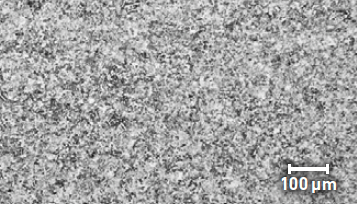 Average grain size ASTM 7-87 Typical PowderRange 15-5PH aged martensitic microstructure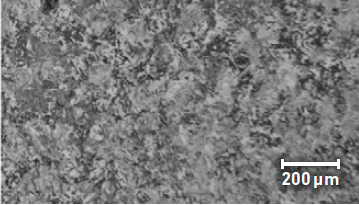 Average grain size ASTM 7-87 Typical PowderRange 15-5PH aged martensitic microstructure
6 Etched with Ralph's etchant
7 ASTM E112 Standard Test Method for Determining Average Grain Size
Typical achievable mechanical properties

8 ASTM/ISO 52900: Laser — Powder Bed Fusion
9 AASTM F3302 — 18 Minimum Mechanical Property Requirements for Ti-6Al-4V and Ti-6Al-4V (ELI) for all applicable conditions (SR, ANN, HIP, AGED)
PowderRange Ti64 immediately and spontaneously forms a stable, continuous, tightly adherent oxide film upon exposure to oxygen in air or water. This accounts for its excellent corrosion resistance in a variety of media. PowderRange Ti64 is highly resistant to general corrosion in aqueous solutions including seawater, as well as in oxidizing acids, chlorides (in the presence of water), rocket propellants and alkalis. Conditions under which PowderRange Ti64 is susceptible to general corrosion are in the presence of reducing acids or dry chlorine gas.
Stress-corrosion cracking (SCC) and crevice corrosion have been shown to occur in environments containing chlorides or other halide ions. For this reason, it is general practice to avoid the use of chlorinated solvents, cutting fluids, etc., in processing titanium.
Titanium and its alloys, including PowderRange Ti64, are susceptible to hydrogen embrittlement. Gaseous or cathodic hydrogen can diffuse into the metal, forming brittle hydrides. Thus, it is important to minimize hydrogen pickup during processing, particularly heat treating and acid pickling. Specifications for PowderRange Ti64 mill products typically specify a maximum hydrogen limit of approximately 150 ppm.
IMPORTANT NOTE: The following 4-level rating scale (Excellent, Good, Moderate, Restricted) is intended for comparative purposes only and is derived from experiences with wrought product. Additive manufactured material may perform differently; corrosion testing is recommended. Factors that affect corrosion resistance include temperature, concentration, pH, impurities, aeration, velocity, crevices, deposits, metallurgical condition, stress, surface finish, and dissimilar metal contact.
| | |
| --- | --- |
| Sodium Hydroxide | Moderate |
| Sea Water | Excellent |
| Humidity | Excellent |
| | |
| --- | --- |
| Sulfuric Acid | Moderate |
| Acetic Acid | Excellent |
Company
3D Systems
GE Additive (Concept Laser)
EOS
DMG Mori (Realizer)
Renishaw
SLM Solutions
Alternative Title
Ti.Gr.23
CL 41 TI ELI
Ti64ELI
–
Ti6Al4V ELI-0406
TiAl6V4
For additional information, please
contact your nearest sales office:
The mechanical and physical properties of any additively-manufactured
material are strongly dependent on the processing conditions used to
produce the final part. Significantly differing properties can be obtained by
utilizing different equipment, different process parameters, different build
rates and different geometries. The properties listed are intended as a
guide only and should not be used as design data.


The information and data presented herein are typical or average values
and are not a guarantee of maximum or minimum values. Applications
specifically suggested for material described herein are made solely for the
purpose of illustration to enable the reader to make his/her own evaluation
and are not intended as warranties, either express or implied, of fitness for
these or other purposes. There is no representation that the recipient of
this literature will receive updated editions as they become available.


Unless otherwise specified, registered trademarks are property of
CRS Holdings Inc., a subsidiary of Carpenter Technology Corporation.