It's National Apprenticeship Week, and to celebrate the contribution that LPW's own team of mechanical engineering apprentices are making to the future of manufacturing, LPW is shining the spotlight on one of its own: Robbie took the initiative and documented and photographed some of the practices implemented in our production facility that form the solid base for the LPW Quality Assurance program.
It demonstrates how the LPW quality ethos is lived by every team member. From experienced engineer to apprentice, every one of the LPW team implements the quality protocols that assure the integrity of the tightly controlled metal powders it develops and supplies from its facilities.
The list is not exhaustive, for example gloveboxes and protective clothing are also used, which have a dual purpose of protecting the user against the powder and the powder from the user. However, this gives an overview of some of the basic housekeeping processes undertaken to guard against contamination.
Here is Robbie's guide to ten simple best practices for managing powder and reducing contamination risk.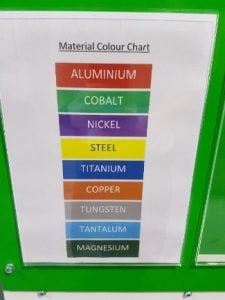 Colour Coded Metals
Each metal handled has its own specific colour code to minimise the risk of cross contamination. Every piece of equipment, every kit and each machine component used on a particular powder is marked with that colour, clearly defining which powder it is used on and where it should be stored or cleaned.
M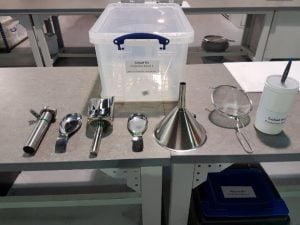 aterial Kits
Every production bench and sieve bay in LPW's facility has allocated, colour coded kits to ensure the correct equipment is used for each metal powder. Each kit contains all the necessary tools needed for decanting and processing, reducing the risk of contamination.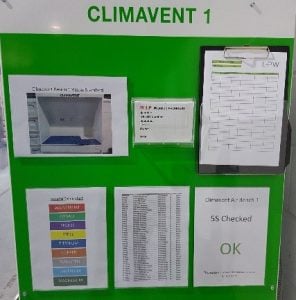 Production Bench and Dust Extraction Unit Logs
The production benches and dust extraction units are the two main working areas for decanting powder, and present the biggest risk of contamination. To prevent this, a robust logging system details usage, including which powder was last decanted in that area and the cleaning regime implemented. This contributes to powder traceability, adding assurance that all metal powders processed can be fully tracked.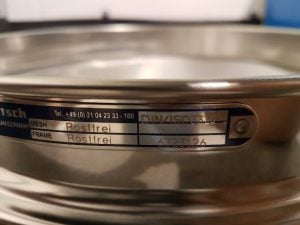 Sieve Decks for Each Metal Powder
Each material has allocated sieve decks in the full range of sizes. Each sieve is clearly labelled with an identification number, and clearly marked with the metal powder it must be used on.
5S Audits and Area responsibilities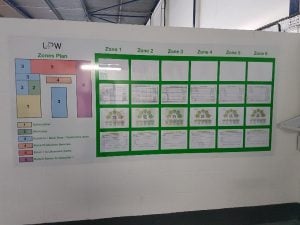 The warehouse and production areas implement the 5S workplace organisation system. Each operator owns an area, within which it is their responsibility to ensure LPW's stringent quality standards are consistently met. 5S audits are carried out monthly, keeping every area under scrutiny, holding operators to account for performance and embedding LPW's quality culture.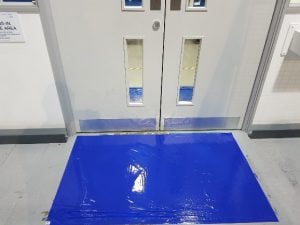 Contamination Mats.
Sticky mats are placed at entrances and significantly reduce the potential transportation of contamination through different areas by removing contaminants from the soles of shoes.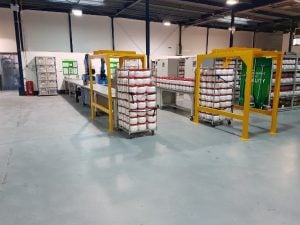 No Wood or Cardboard Policy
To minimise the risk of powder contamination there is a strict policy prohibiting wood or cardboard beyond a certain area. Only team members wearing the correct protective equipment may enter the production area, where powder may be open to the atmosphere.
Powder Contam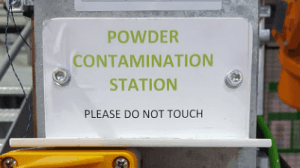 ination Stations
These are situated around the production and warehouse areas. The airborne particles they collect are analysed in LPW's laboratory by SEM. If a particle of a powder that is not processed in the immediate vicinity of a particular Powder Contamination Station is detected, it is immediately investigated.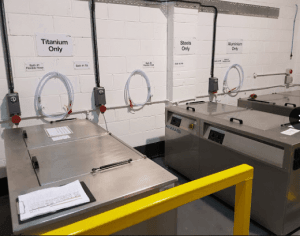 Ultrasonic Baths
Ultrasonic baths are used to clean and loosen powder from sieve meshes after use, and are segregated into different metal types. More effective than using brushes or cloths, which can themselves contain contaminants, ultrasound waves are emitted into the water and the vibrations cause the powders to separate from the sieve mesh. The sieves are then dried at the appropriate temperature.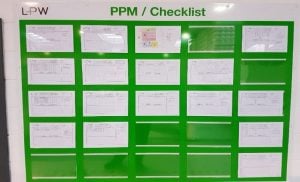 Planned Preventative Maintenance (PPM) Board
PPM (Planned Preventative Maintenance) checklists are completed daily within production. These checks ensure that operators review all equipment and include verifications of the cleanliness of the machines.
High-quality metal powders that perform over numerous platforms with consistency, traceability and minimal risk of contamination are essential for industrial (AM) production. For over a decade LPW has been gathering data on AM processes and utilising this information to develop intelligent powder solutions. It has developed PowderLife, a series of products, processes and AM powder lifecycle management software which strictly controls risk for manufacturers, adding confidence, reliability and traceability in metal powder production and repeated AM builds. And all this has been built by safeguarding LPW's metal powders' integrity at source, just as Robbie has outlined.