Challenges with efficient and safe powder lifecycle management are impacting our industry's confidence, and subsequently holding us back from moving from prototyping to production. In order to advance the industry towards greater production scalability, critical variables must be addressed, including safety, machine utilization, environmental impact, powder exposure, and traceability.

Currently, most metal powder is delivered into AM machines via plastic bottles, or small containers. Carpenter Additive's automated docking station is a machine-independent solution to safely, accurately, and efficiently load and unload powder directly between the AM machine and bulk hoppers which contain greater than 120L of powder. This solution eliminates the need for operators to come into contact with open powder (and the associated safety hazard). Equally importantly, it drives up production efficiency by up to 80% due to faster loading and unloading, increasing saleable production capacity and reducing costs.

The PowderLife Ecosystem
Carpenter Additive's PowderLife™ Ecosystem is our vision that we are turning into a reality. We continue to develop new and existing products to achieve a fully closed-loop solution from powder factory to AM production shop floor. The ecosystem offers:
Critical safety and efficiency benefits
Full vertical integration of your supply chain, minimizing the need to manually transfer feedstock and risk of powder contamination
Programmable powder dosing where the user can digitally input the weight or volume of powder to be moved into the machine
Digitally-ready infrastructure for powder management that can be integrated into your future connected factory or industry 4.0 vision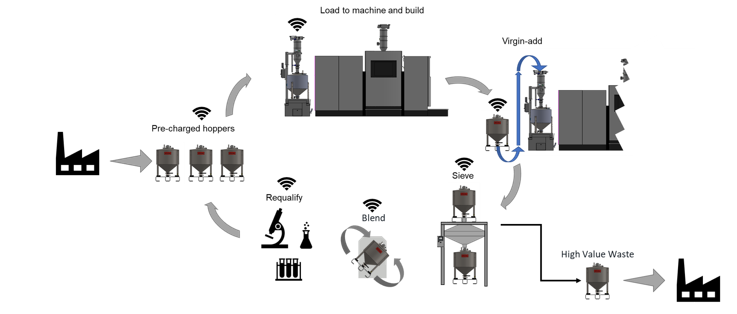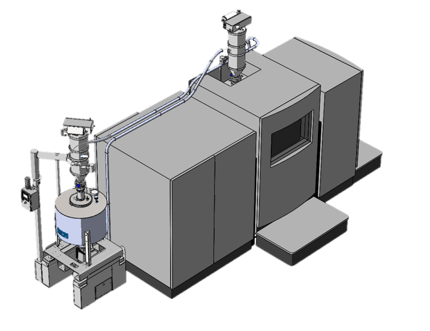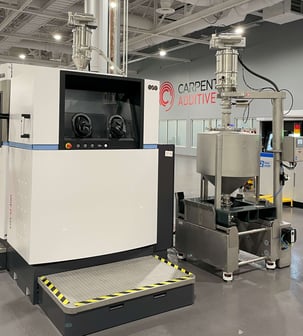 Reduction in Cycle Time
With the automated docking station, Carpenter Additive have reduced the cycle time from 500 to 90 minutes (80% improvement). This allows for increased machine utilization, increasing production capacity and hence, driving down costs.
To achieve these improvements, Carpenter Additive used an EOS M400 as the test unit, however, we expect results in line with this across other systems. The PowderLife solution is machine agnostic, enabling users to only require one standardized set of equipment to feed, and manage powder in their facilities. With this, users do not need to acquire a variety of incompatible equipment, just because they have machines from different vendors.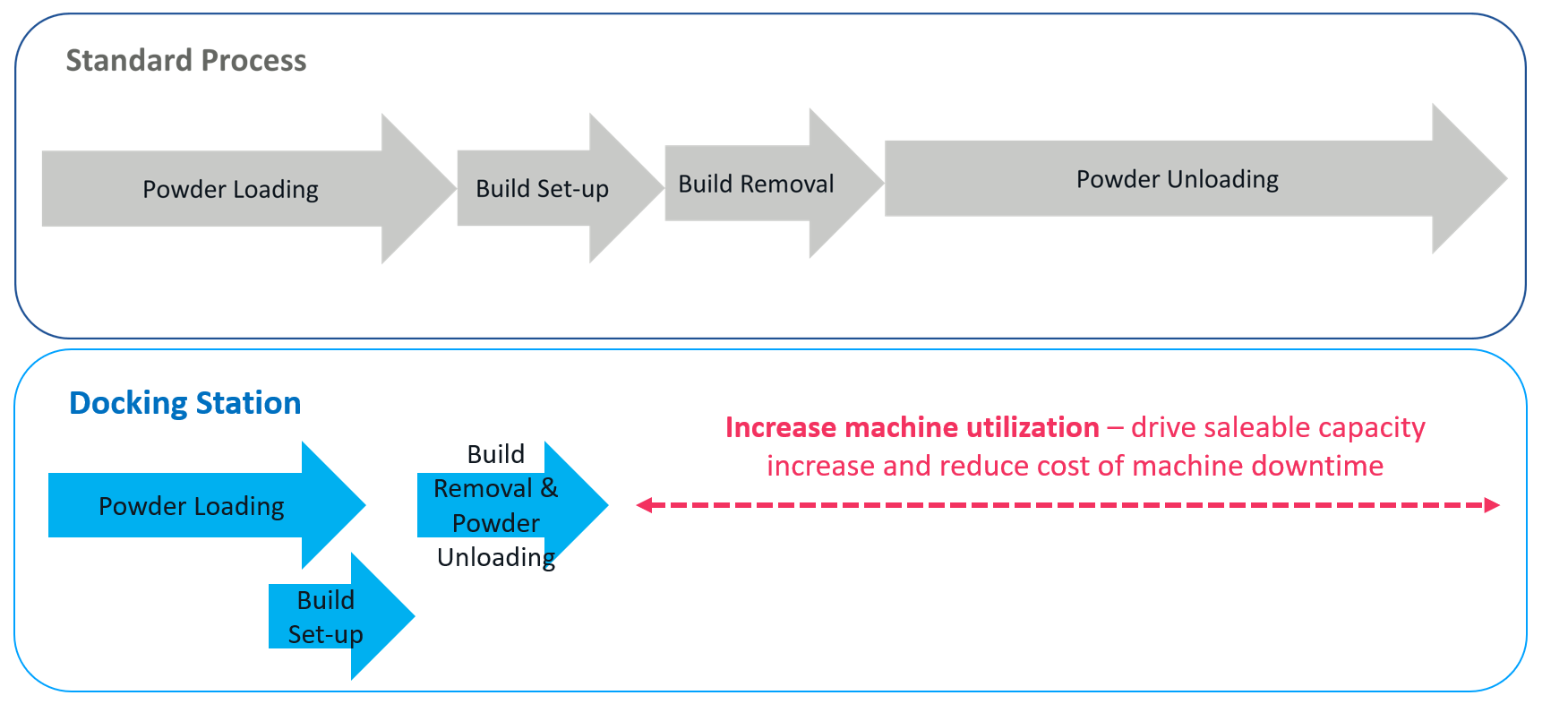 Powder Loading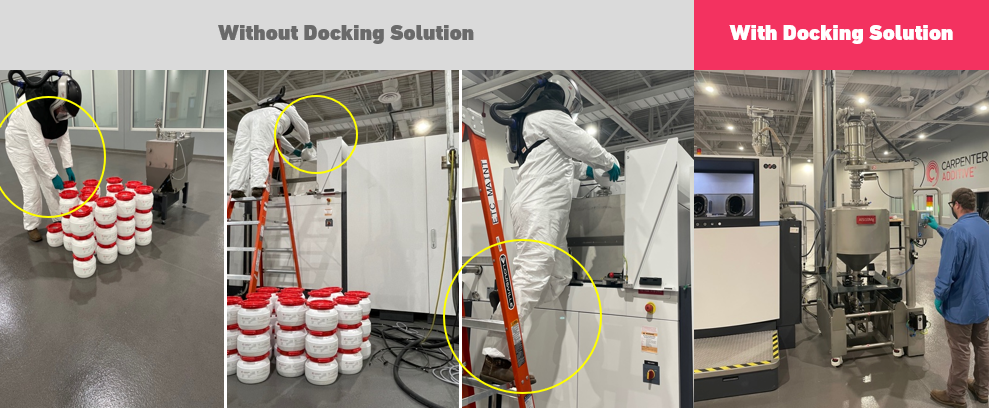 Without the docking solutions (see image above), operators are required to handle and transport the (45) 10 kg plastic containers, the equivalent to the capacity of the standard 120L Hopper. It is time consuming to unload and fill the internal OEM machine hopper, with high risk of powder exposure, contamination, and spillage. Let alone the fact that all of this is carried out by the operator often wearing uncomfortable PPE.

With the auto-docking station, as seen in the image on the far right, the ergonomic risk is eliminated. Operators do not need to work from height and transport heavy loads, and the closed powder conveyance system allows for reduced PPE requirements.
Additional Benefits of Auto-Docking:
Sustainability through elimination of plastic waste -hoppers can be sent back to the factory for cleaning and/or cleaned on site
Minimized PPE requirements with closed loop processing
Increased productive time and monetizable machine capacity –time saved filling the machine means more laser on time for your production jobs
Improve build consistency – through a repeatable, accurate and controlled dosing via the docking system's digital control interface
You can also reach out to the Carpenter Additive team to get expert help or answers to your toughest questions.