Manufacturing near net shape powder metal (PM) components by hot isostatic pressing (HIP) has been an important manufacturing technology for stainless steel alloys since around 1985. The manufacturing process involves inert gas atomization of powder, 3D CAD capsule design, sheet metal capsule fabrication, and densification by HIP in very large pressure vessels.

The main applications of PM-HIP are found in the energy sector, particularly in offshore oil and gas applications, but also industrial and nuclear power generation. A significant growth for PM-HIP is anticipated in the nuclear industry in the years ahead. The advantages of PM-HIP manufacturing over traditional forging and welding are significant:
Microstructural cleanliness
Material homogeneity / uniform structure
Isotropic properties, no longitudinal/transverse direction
Ultrasonic inspectability due to the fine grain size
Parts are produced near net shape
Less machining and welding needed during final assembly and repair
Due to these advancements in PM-HIP manufacturing, high-quality parts have shorter delivery times, give engineers greater design flexibility, and are more economical to manufacture.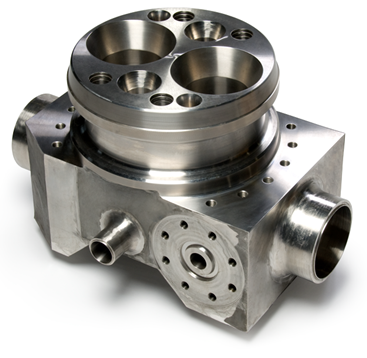 Advanced materials for advanced manufacturing
Mechanical properties and corrosion resistance is largely dependent on chemical composition and microstructure. Gas atomized and HIP'd material has a different composition and microstructure than cast and forged material. Precision production and quality control is key.

Carpenter Additive's cutting-edge facility in Torshälla, Sweden, has been producing metal powder for HIP'd near net shaped parts since the 1990s. From the beginning, powder production was focused on different types of austenitic stainless steels. This in-depth stainless steel knowledge made creating metal powders for near net shape manufacturing a natural next step. Today, our duplex family is dominant for the oil and gas industry.
Over the years, Carpenter Additive has developed more and more advanced austenitic, duplex, and super duplex stainless steels to withstand the most extreme conditions — from deepwater drilling to CERN's Large Hadron Collider (LHC). Over the years, we have consistently delivered substantial quantities of high-quality Austenitic and Duplex-family steels to fuel HIP-NNS solutions, contributing significantly to the industry's success.
Micro-Melt 316LN
Austenitic stainless steel Micro-Melt 316LN was developed for building the end covers of the CERN LHC. A new process had to be developed and implemented to reach the material properties needed at below 5 kelvin. An equally significant development stage had to be performed for the test production of larger PM-HIP components for the ITER magnetic fusion device's development stage.
Micro-Melt 2505 Super Duplex Stainless
Super duplex stainless steel Micro-Melt 2505 is our most produced grade for near net shape applications. Our propriety production process and optimized chemical composition ensures the correct microstructure, phase balance, mechanical properties, and impact strength.
Carpenter Additive has an extensive portfolio of metal powders engineered for HIP'd near net shaped parts.