Industrializing additive manufacturing (AM) is the next great leap for medical device production. However, to make volume production a reality, additive material challenges must be addressed: powder quality and reusability, material handling, inventory management, and traceability throughout the process chain.

Today, these challenges are managed through individually populated spreadsheets and paper certificates — manual processes that increase inefficiencies and offer neither a digital connection for automated traceability nor data for future predictive analytics.

The U.S. Food and Drug Administration (FDA) permits the reuse of powders in AM for medical devices . Monitoring chemical composition, oxygen, and moisture levels in powder to be reused is recommended, and documented evidence or a strong rationale is required to establish that reused powders will not have any adverse impact on printed implants. Being able to trace the powders used and reused to produce medical devices is vital.
A powder-to-part solution
PowderLife from Carpenter Additive is a proven powder management solution that addresses all the concerns of material handling while optimizing the production process—from powder to part and cycling back to powder reuse.

PowderLife Online governs the entire AM process with a free, easy-to-use, secure, cloud-based digital platform that can be integrated with materials and machines from any vendor. It's a single system for managing inventory and capturing vital process data — creating a digital thread, fulfilling FDA documentation requirements, and offering one source of truth for real-time traceability through the complete lifecycle of the powder.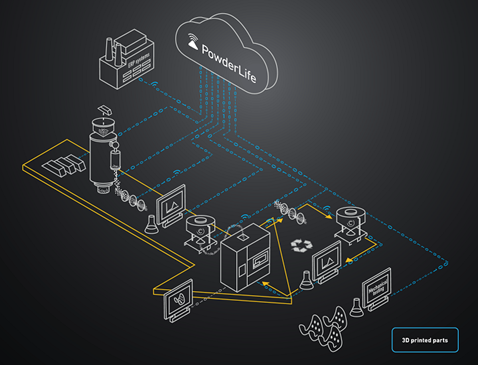 PowderLife Online can be coupled with current business systems through application programmer interfaces (APIs) to avoid unnecessary duplication and mitigate the risk of human error. The software's ability to capture, store, organize, and analyze chemical, characteristic, and mechanical test data enables intelligent decision making and improved economic results.
Improve quality by up to 30% with traceability designed specifically for AM powder
Reduce risk, recalls, material waste, and costs
Reduce powder costs by 25% by quantifying powder reuse limits (no more guessing)
Reuse metal powder with confidence
Stock 50% less inventory through intelligent powder management
PowderLife adds confidence, reliability and traceability to the AM value chain.

Start using PowderLife today — free!