Do You Have Confidence in Your Alloy's Performance and Quality?
With 3D printed components inside mission-critical applications, it is imperative that the industry has full confidence in the materials used in additive manufacturing. Many leading adopters increasingly require a complete record, also known as qualified data pedigree or process control document (PCD), from their suppliers. At Carpenter Additive, we are building a continuous data repository of powder characteristics, process variables, and consolidated material properties across a wide range of alloys.
Our vision to build this repository over time to a critical mass of information will help our customers and the industry as a whole to:
Statistically determine the minimum values for strength and other properties, i.e. demonstrate robust design allowables for different alloys;
Monitor continuous quality by training machine learning (ML) and other artificial intelligence (AI) algorithms to understand "causes and effects," detect anomalies in real time, and stop the propagation of defects in production parts before it's too late;
Significantly reduce the amount of testing and inspection – and hence cost – in the manufacturing of serial production components;
And many other data-driven benefits!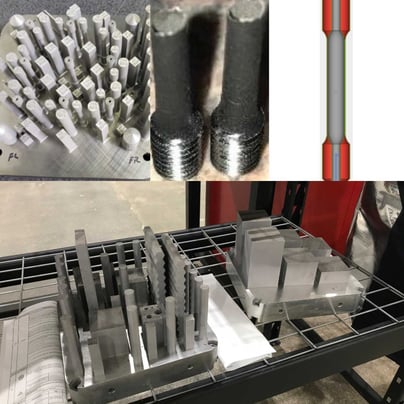 The First Challenge:
Collecting Clean, Searchable Data
As the saying in data science goes: "garbage in = garbage out." Using our PowderSolve software, our Carpenter Additive operators and lab staff upload data directly in an efficient, user-friendly way. Much of our test equipment is linked to PowderSolve via application programming interfaces (APIs) that effortlessly capture the raw data, avoiding the usual jumble of different spreadsheets and PDF test results to ensure the data is already in a relational, i.e. fully searchable, format. The team uses the software's browser-based interface on their desktop or the mobile app to manage all their data and maintain full traceability for a given project.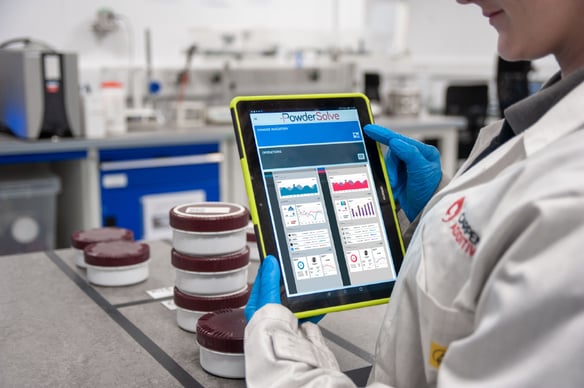 Digital Thread, Big Data, and Machine Learning
The result is an easy-to-access, comprehensive digital thread containing information on the materials' process-structure-property relationships. This provides manufacturers with assurance of the performance and quality of their additive parts. As we can see using a (simplified!) data diagram for aluminum alloy Al10SiMg below, the results quickly build into complex and inter-related data structures which are much easier to query using computer algorithms than keep track of manually.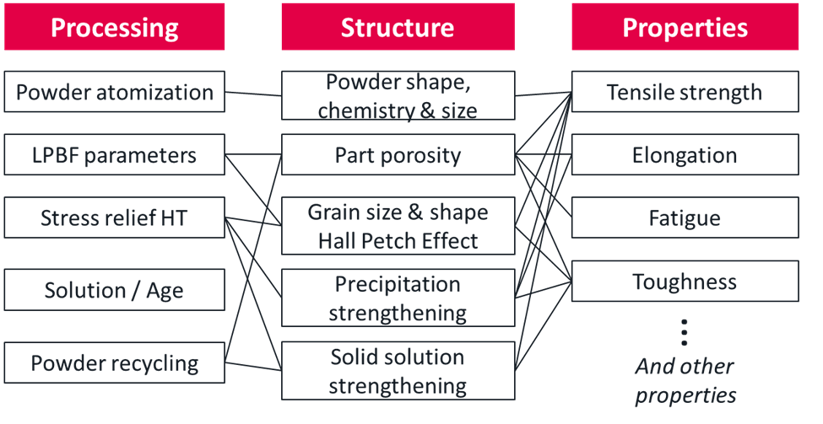 Figure 1. Example process-structure-property diagram for aluminum alloy Al10SiMg, illustrating the complex inter-relations that are much easier to investigate with large data sets to query.
Putting Data to Work
Applied to both Electron Beam and Laser Powder Bed Fusion technologies, we've seen a continuous improvement in mechanical properties over the last five years (Figure 2) and continue to use PowderSolve to capture full process-property data on existing and developmental alloys (Figure 3).
Figure 2. Continuous improvement in Camarillo Titanium (Ti64) mechanical properties over 5 years.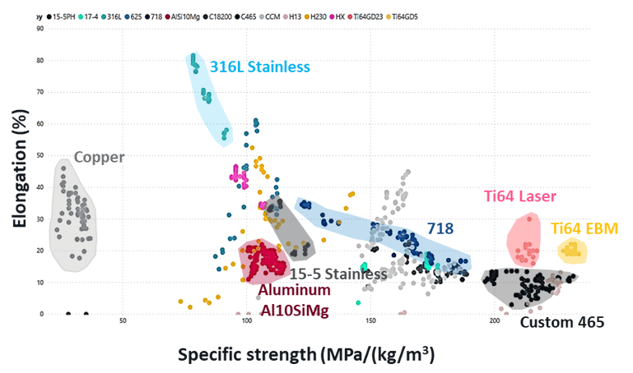 Figure 3. Specific strength vs. elongation data on a wide range of existing and developmental alloys at Carpenter Additive's R&D location.
Ongoing Advancements and Next Steps
Carpenter Additive is uniquely positioned as a supply chain partner to support materials development and engage in data-driven improvements with customers. Our mission is to enable widespread adoption of AM technology and provide confidence in the alloy materials used. Our growing process-property database is just the start – we want to work with you to solve your most challenging problems.
If you have questions or ideas about using data to accelerate your additive journey, please get in touch!